Benjamin Domb, MD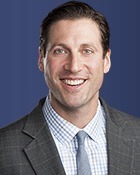 Benjamin G. Domb, MD
Dr. Domb is a nationally recognized orthopaedic surgeon specializing in sports medicine and arthroscopic surgery of the hip, shoulder and knee. A noted pioneer in advanced new techniques in hip arthroscopy, he delivers innovative treatments for patients with hip injuries such as impingement and labral tears. Dr. Domb is also an expert in arthroscopic surgery of the shoulder and knee, adept in specialized techniques including arthroscopic rotator cuff repair and all-inside ACL reconstruction.
Dr. Domb has treated numerous professional athletes, and has cared for the Los Angeles Lakers, Dodgers, Kings and Galaxy professional sports teams. Patients from across the country consistently travel to Chicago to seek Dr. Domb's expertise. Dr. Domb takes pride in caring for each patient like a professional athlete, using the same meticulous approach to restore them to top-level performance in sports, work and day-to-day life.
As the author of more than 100 publications in the field of sports medicine, arthroscopic surgery and hip injuries, Dr. Domb lectures and teaches courses regularly for orthopaedic surgeons around the country. He has repeatedly been invited to be a guest speaker at the American Academy of Orthopaedic Surgeons and other national meetings and is actively involved in the research and development of new techniques in arthroscopic surgery.
Education and Training:
Multi-Center Fellowship in Hip Arthroscopy and Joint Restoration (August-January, 2007)
Prof. Reinhold Ganz and Michael Leunig, Schulthess Klinik, Zurich, Switzerland
Dr. Marc Philippon, Steadman-Hawkins Clinic, Vail, CO
Dr. Thomas Byrd, Nashville Sports Medicine & Orthopedic Center, Nashville, TN
Brian Kelly, Hospital for Special Surgery, New York, NY
Dr. Carlos Guanche, Southern California Orthopaedic Institute, Los Angeles, CA
Kerlan-Jobe Orthopedic Clinic, Los Angeles, CA (2006-2007)
Fellowship in Sports Medicine and Arthroscopic Surgery of the Shoulder, Knee and Elbow
Hadassah Hospital, Jerusalem, Israel (August-September, 2005)
Orthopedic Trauma Traveling Fellowship
Hospital for Special Surgery, New York, NY (2001 - 2006)
Orthopedic Surgery Residency
Johns Hopkins University School of Medicine, Baltimore, MD (1997-2001)
Princeton University Princeton, NJ (1993-1997)
Bachelor of Arts in Biology, Magna Cum Laude
Current and Previous Appointments:
Staff Physician, Hinsdale Orthopaedics
Head Team Physician, Chicago Sky, WNBA
Team Physician, Hinsdale Central High School
Assistant Team Physician, Los Angeles Lakers
Assistant Team Physician, Los Angeles Dodgers
Assistant Team Physician, Los Angeles Kings
Assistant Team Physician, Los Angeles Galaxy
Professional Memberships:
Hinsdale Orthopaedic Associates, S.C., Chicago, IL (2007-Present)
Sports Medicine, Hip Preservation and Restoration
Board Certified in Orthopedic Surgery, American Board of Orthopedic Surgeons (ABOS)
American Hip Institute, Chicago, IL 2009-Present
Hip Center of Excellence, Adventist Hinsdale Hospital (2010-Present)
Chicago Sky, WNBA (2010-Present)
Los Angeles Lakers, Dodgers, Kings and Galaxy (2006-2007)